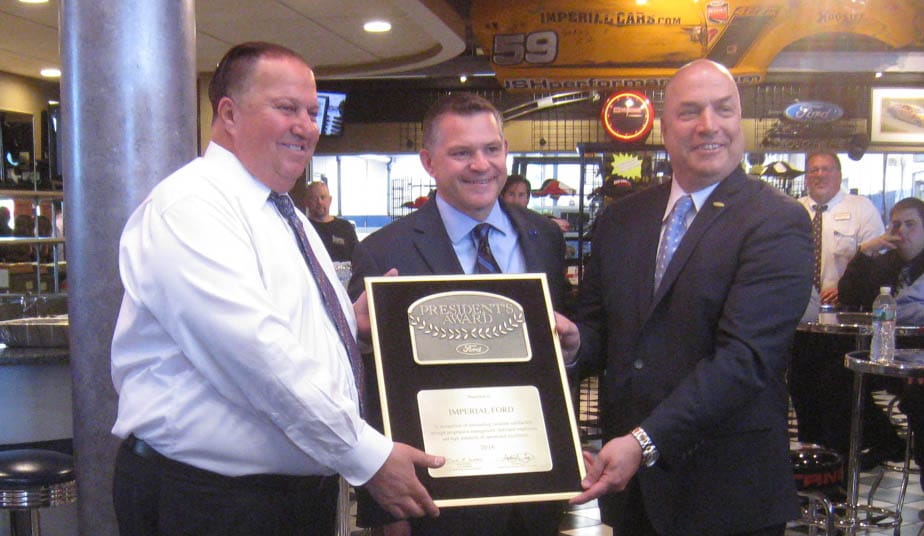 Kevin Meehan, Marc Rogowski, and Michael Penner pose with the Ford 2016 President's Award


June 2017- Award Ceremony for 2016 President's Award from Ford Motor Company.
Imperial Ford has once again earned the prestigious President's Award from Ford Motor Company.  The award recognizes Imperial Ford for its commitment to deliver outstanding customer satisfaction through progressive management, dedicated employees, and high standards of operational excellence. 
Less than 7% of the over 5,000 Ford dealers worldwide ever achieve the President's Award and even fewer are multiple year winners.   In addition to winning for their efforts in 2016, Imperial Ford also received the President's Award in 2013 and 2014.
To achieve the award, dealerships need to achieve rigorous standards for customer satisfaction in Ford's own surveys of service and sales performance.  According to Imperial Cars General Manager Michael Penner this is not a surprise because "the written mission of Imperial is to create in customers 100% satisfaction with all its products, prices, and services."
Penner concluded by saying that "people can buy cars these days almost anywhere. They can only receive the Imperial experience, however, in "the little town of Mendon." We've created a culture of expectation and excellence.
Representatives from Ford were in Mendon to officially present the award and celebrate this great accomplishment.   At the ceremony Marc Rogowski, Boston Regional Manager of Ford-Lincoln Sales, Parts and Service Operations, honored Kevin Meehan, owner, and Michael Penner, Executive General Manager.   During the ceremony Rogowski praised all the employees for their hard work and commitment to customer service, stating that an award like this is a team effort. 
---